I had effectively become a risk to myself, so in the summer of 1974 I took the ferry from Southampton to Bilbao in northern Spain. A friend had talked about Spain as a great place for escapists. Leaving felt dramatic and I managed to pick up a fellow traveller on board. In reality, it was Kate who picked me up as she was looking for someone as a hitch-hiking companion. I had £30 on me, but I doubled it on the roulette wheel in the shipboard casino.
Kate had met a Spanish professor onboard and hoped to avoid his offer of a ride to Madrid, so we planned to take a bus out of Bilbao, and then just stick our thumbs out. Routing was a problem, and we got stuck more than once, but a short train ride, several hours, and a kind taxi driver soon saw us headed in the right direction on the right road. Minutes later an ominous looking red mini pulled up. It was the professor. He had somehow missed the direct road for Madrid and come up through the hills. It was eerie, but it was cool.
We squashed ourselves into the mini and roughed the ride all the way to Madrid. It was late, but the Prof had thoughtfully called ahead to his wife to find us a hotel. We met together and they bought us coffee. Then she said that the only hotel available was a little expensive. Kate said something about sleeping in a park, but I figured the hotel might be worth it for the rest. I paid.
"Barcelona!" I yelled, as I stood naked in front of the open window the next morning. Kate muttered sleepily from the bed, "We're in Madrid".
Kate and I trouped off to the Prado, to catch one worthwhile glimpse of the city, and then took a taxi to the outskirts. We hiked for two days, catching wonderful rides, scrounging food as possible, trying tapas and gazpacho. I had no sleeping bag, so I froze at night, devoured by ants and mosquitoes. Eventually we got down to Marbella and Puerto Banus, where the Union Jack on Kate's backpack drew us a lift from a British yachtsman. Kate left for Estepona to continue her holiday. I had lunch with the sailor and he explained how the private yachts would cross to the Caribbean every autumn. Sometimes they took on crew. I figured the possibilities. I found a small pension that had a room available.
I thought about how long I could stay in this place. Five days. I decided on four nights there to get the lie of the land, and still have money for food. Hanging around the dock, the days passed quickly. I threw out half of my gear and found a building site where I could sleep. There were no yachts going across the Atlantic as it was too early in the season. Some Americans I met there suggested I move up to Torremolinos as there was more action and nightlife. I took a ride with them.
I found another building site for the first night, and then an abandoned villa called Huerta Alta. It was beautifully situated overlooking the fishing village, south of the main drag. A number of kids were sleeping there. I went three days without eating. I was looking for work and it didn't seem to matter, but by day four the situation was serious. Some guys who worked at the Duke of Wellington pub gave me a meal.
You just have to know how to live. I was able to stay several weeks in Torremolinos after I met up with Vicki and her dog. The dog was a great help. Vicki would take him round the back of restaurants in the evenings and ask for leftovers. We'd sit on the bins outside and share. I'd peel grapes for Vicki, one by one.
We slept together in the outhouse of some estate. The dog stayed loose outside. Some nights I'd climb over the back wall of a small shop and pass refundable empty bottles through the gate to Vicki. The next morning we'd take them into the store for the refund. Then the owner put a guard dog out the back. Vicki was also expert at touching up the night-owls for money. Norwegian sailors, retired Germans, classy French prostitutes; everyone went to the Noche-y-Dia for late night brandies and coffee. Hang around too long though, and you were liable to get picked up yourself.
I decided to leave but first I went to a small clinic to sell half a litre of my blood. I got talking with a young Moroccan man in the street who suggested I go with him to Granada. He was a professional footballer, but a terrible driver. Apparently all you needed to drive well was a strong heart and faith in Allah, but his performance on the curving coastal roads was not convincing. We made it safely to Almeria and then Granada. However, as our conversation developed it became clear that what he really wanted was to try to pick up young women – he wanted me to pimp for him. He decided that Granada was too small and quiet and so the next day we drove on to Seville.
With some food and drink inside me I could wander around Seville feeling more relaxed, but two days there was enough before the footballer changed his mind and decided to go home to his wife. He dropped me on the outskirts of the city.
A group of French students gave me a ride in their converted Citroën ambulance. They had spent the summer in Morocco and were heading home to Toulouse. It was a perfect lift – I could sleep in the back and they shared their food with me. We drove up through Cordoba and sang our way through Aranjuez before passing Pamplona. The van stopped in the Pyrenees at Saint-Jean-Pied-de-Port where all seven of us piled into a freezing mountain stream for a wash before having fresh trout for lunch in one of the outdoor restaurants.
I could stop using the odd Spanish phrases I'd picked up, and try out the French I'd done at school. I remembered about three words, but Bonjour Madame and pain s'il vous plaît would not get me far. They told me about the grape picking, and where I should go to find work. After one night in Toulouse with them I asked for a franc for the bus to get out of town.
I hiked to Narbonne and arrived in the evening. With every lift I practised my French and tried to discover more about the vendange, the grape harvest. I wandered around the town centre until I found a good derelict house to stay in. I slept up on the first floor. The next morning I went looking for the vegetable market to pick up any food that had been thrown out. Living on the road presents specific daily challenges: sometimes scavenging for food, sometimes flirting for freebies, sometimes hassling for small change, but mostly keeping a low profile. You quickly learn when to sleep in a ditch, (to keep out of the wind) and when to sleep in an abandoned car, (to avoid stray dogs) or whether a building site might be the best option, (at weekends). And when your primary utensils are an old ham tin and a wooden stick you are free to develop your own style of cookery.
The person I met in the employment office spoke some English and fixed me up in Roquefort-des-Corbières, a village twenty kilometres to the south. It was now mid-September and I had a job, money in advance, and a place to stay; and a small, select group of other pickers to mix with from the UK, New Zealand, Portugal, and Denmark. The rest of the village workforce came across from Spain. We would be there for a month.
There were some French and Belgians as well who would be picking grapes for another farmer. They did not get on. The French woman was married to a Tunisian and one of the Belgians had a clear attitude problem about race and colour. At one point he took a pellet gun and shot the Tunisian in the shoulder. We were incensed by this but he would not take the matter to the police.
It soon became clear that this kind of work was seasonal and autumn only. It was also potentially back-breaking. To work quickly you had to stay on your feet but bend low over the bushes. With a pair of secateurs in one hand your main objective was trying to avoid slicing up your other hand while filling the buckets with the grape bunches. We ate well and made full use of the two litres of wine per day that formed one part of our pay. The wine was only around 8 degrees in strength so in the evenings we would top up on pastis.
By mid October the work was done. One option was to follow the vendange further north, but the weather was also getting a lot colder. I had been too early to find work on a yacht when I was in Puerto Banus so I decided to head for the Canary Islands as it would be cheap to stay there if I couldn't get a ride further west.
I made record time going south, three lifts from Perpignan and I was in Algeciras. Walking on the open road just outside Cartagena I spotted a young lad coming towards me. He hailed me and we chatted for a while. He was regular runner on the road, bringing Moroccan cannabis into Spain. I had a full bottle of Grenache wine with me so we shared a joint and relaxed in a ditch by the side of the road.
Two more lifts and I was in Cadiz. By curious coincidence, some girls I'd met in Seville months before passed by the café where I was having a drink with a Dutch engineer. Two of them were English and were waiting for their boyfriends to get out of prison; they had been caught by the Spanish police while trying to smuggle hashish into Spain. They let me stay at their flat for a few nights, just across the bay in Puerto de Santa Maria.
Four days later I took the ferry to Las Palmas, arriving October 18th. I'd met some Mancunians on the boat from Cadiz and went with them down to the south of Gran Canaria in their old Bedford van to a hip beach of happy, surfing campers, Playa Meloneras. They had spent the winter there before and knew that the surf was reasonable and you could live quite cheaply.
I found a stone hut in a gully some 100 metres from the sea and fixed up a roof of sorts with palm leaves. I had money left over from the grape picking and it seemed that would last a while, perhaps for the winter.
Peter and Ulla, two friends from Roquefort, had both managed to get onto boats going to the Caribbean. We had kept in touch by letter and I ran into Ulla in Porto Rico on her way to Bermuda. Peter had picked up a boat in France and his lift had stopped briefly in Las Palmas, headed for Trinidad. We met up for a few beers and took a trip to Soria in the mountains.
One memory shot that always comes to mind is one I didn't take in Gran Canaria. Pierre, a Belgian guy I knew from the beach, had managed to get a couple of days work for me in one of the tomato plantations behind Playa Meloneras. It was a shot of verticals and diagonals in a rich brown light with strong shadows. Very abstract in some ways, though it was the detail of the landscape, the business of farming, and the animation of bare feet in the ridges and troughs of the soil that caught my eye. I was there planting tomatoes as the farmer needed all the hands he could get hold of to put in the seedlings that week.
It was only a couple of days' work, casual, illegal, and cash in hand. The kind of work you could pick up if the right person happened to be in the right bar at the right time. In this case, it was due to Francisco, an old man who looked after the hut on the beach. He was a tomato farmer, but he also kept deckchairs for rent at the tidy end of the beach. He was a generous man, and his friend Pablo, who was a fisherman, would sometimes invite a few of us to his hut for lunch – fresh fish, fresh tomatoes, and fresh bread. It made a change from the corn flour porridge made with the local gofio.
A lack of self belief as much as a lack of cash had held me back from buying a camera before I left the UK, but the new sights all around me in southern Europe pushed me to borrow one when the opportunity arose. I borrowed a Kodak Instamatic for a couple of weeks and was able to put one roll of film through it. Only a few prints survive and they were printed on a pearl paper that doesn't scan very well.


Ita, Bruno, Peter
It would have been good to take a camera up to Soria to record the American muralist and the tigers he painted that, within a year or so, would have been flooded forever under the waters of the new reservoir. It would have been good to take it to the caves on the plateau above where I spent several days with a French and Irish couple who lived there. It would have been good to take it to the bars of Arguineguin to record the tourists drinking watered-down brandy among the old fisher-folk who drank the real thing. This was the mid 1970s; General Franco was still alive.
The sunsets were magnificent, the sea water warm, the beach barbecues great fun, and a wide variety of recreational drugs were freely available. But in the end, particularly through February and March as many of the beach inhabitants began to drift away and head north, things got very quiet. At this point I was sharing one of the largest tent structures on the beach with an English gent known as Dr Peter, Bruno, a German chef, and Martine, a young French woman. One pastime was touring the pharmacies to buy bottles of Ipicapan, a cough medicine that contained a quantity of opium. They would boil it down to shoot up. Personally I was averse to using a needle, but visiting so many shops gave me an idea.
We started to include supermarkets on our tours as there were many small ones that catered almost entirely to the tourist population. They were easy targets and I quickly learned how to take advantage of them. I had deep, hidden pockets. From frozen rolls of Argentinian steak, to bottles of vodka and rum, to cartons of cigarettes, I was able to lift enough goods to feed us well, while at the same time some trading on the beach enabled me to raise the cash necessary for my boat ticket back to mainland Spain. I realised that I probably needed to do this quite soon when I caught myself drinking nearly a quarter bottle of Pernod with my honey and garlic baguette at breakfast.
I left on April 18th. From Cadiz I hitched to Amsterdam, taking around ten days. I was lucky enough to run into some Swedish and American characters from Meloneras who could help with places to stay. I slept on floors wherever there was the chance, the only alternative being finding a quiet underpass. Hitch-hiking was relatively easy across Europe, though finding work as an illegal immigrant was not. In the city, much of the day and the night were spent hustling for change.
I looked into the possibility of working on the oil rigs in the North Sea, but after a few weeks I left Amsterdam as I'd heard that it would be easy to find enough farm work in France to last me through the summer. There were cherries and peaches, followed by apples and then the grapes again.
It was already June before I started south. From Amsterdam to Rotterdam to Antwerp, to Rheims and Dijon, to Lyon and Orange, talking to drivers along the way. I met up with Homer, an American traveller, and he talked about philosophy and the Beat poets while we followed the roads. Often as not you'd be dropped by one driver at one end of town and have to walk your way to the next exit, so there was always time for talk. Just north of Antwerp a driver stopped who was clearly very drunk. I refused to get in the car, but he insisted that all would be well if I did the driving for him. I drove him to his home on the south side of the city, which then left Homer and me with a lengthy walk back to the autoroute. Other lifts were more productive and a salesman for a charcuterie company gave us a stock of salami that lasted for days.
Homer went west at Orange, I continued south towards Aix-en-Provence. I accepted a lift into the centre of Avignon to get something to eat and spotted some graffiti written under a bridge. I wrote it down as "One man's harvest is another man's seed" and only later realised that this was probably an inaccurate translation from a line in the Grateful Dead track, St Stephen, "One man gathers what another man spills".
From Aix, I backtracked to Cavaillon where I met José and one of his friends going around the farmers' wholesale market looking for work. As none of us could find any they took me back to meet the others of their group in a field just outside the town. Marie, Brigitte and Aziz were from Paris while José and his two friends were Basque students.
With seven mouths to feed we had to take some serious steps to procure food that evening. Marie, Brigitte and the Basque girl went to the convent and begged some bread and soup from the nuns. The lads hustled for some cash on the streets and then went into the supermarkets where I was able to impress them with my talents between the aisles.
Marie and I had hooked up together and we all separated into pairs to get rides to Privas in the Ardèche. It was already close to the end of the cherry picking season but we found work on farms in the surrounding hills. One farmer gave us a barn to stay in but at the end of the picking each one had to decide where to go next. Alain, my boss, found work for me with the local Coopérative Agricole as a driver. Marie, Brigitte and Aziz returned to Paris for a couple of weeks while José and his friends went back to Spain. When he left, José gave me all his spare French money – an unforgettable gesture.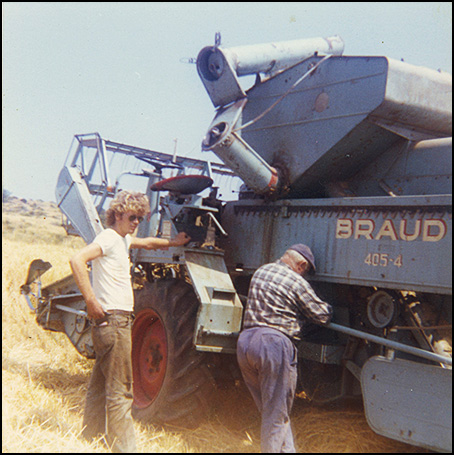 Self, Vignal
I learned to make spaghetti with olive oil and tomato paste, and swore I would never eat potatoes again. I got used to drinking chicory and chocolate with the breakfast coffee, along with apricot jam on white bread for dunking. When Marie and Brigitte returned, this time with Remy in tow, we reorganised the bales of straw into discrete sleeping quarters. Marie and Brigitte had both developed a habit of sniffing ether, which became so bad that the local pharmacy refused to serve them.
Touring the hill farms as a relief combine harvester driver was interesting. Some of the farmers were successful or even quite wealthy while a few were obviously barely surviving, but all of them provided meals according to their means. Breakfast might be omelette, with toast and jam and coffee, or maybe just a few slices of salami with bread and red wine. It didn't matter. I ate more rabbit than at any time since: rabbit stew, rabbit casserole, rabbit fricassee, rabbit pie, and of course roast rabbit. Washed down with red wine at breakfast, lunch, dinner, and all snacks in between, I wasn't complaining.
Alain had advised me never to talk about my time in Gran Canaria, saying that I should present myself as a student on holiday. I would appear more credible and be accepted by the farmers more readily. He was right. The farmers themselves would talk about the fields and the crops, or their sheep and the other animals they kept. Except one, a woman from Ireland who had married her French husband some ten years before. She talked about how unhappy and lonely she was, living among the hill farms, with never anyone around that she could relate to. Moving to France had seemed very tempting to her at the time, but she cautioned me against making a similar mistake.
Monsieur Vignal, the elderly combine driver, spoke both the old patois of the mountains and reasonable French. One Sunday he came down to the barn to give me directions on where to meet him the next morning. We gave him some wine and he sat down among the straw bales with us and just chatted. It was a fine warm day and the sunlight streamed in through the large doorway illuminating Marie as she sat cross-legged in a large white T-shirt. The scene would have made a beautiful shot. But then she moved and brought her knees up level with her chin. She had no knickers on and Vignal caught full view of her pubic hair. I thought his face would explode, but he coughed loudly and turned his head away with a wince of pain.
By chance I ran into a couple from Meloneras at a bar in Privas. They were visiting from Denmark and running a tourist restaurant in the hills, a connection that would prove useful the following year.
I arranged for a group of us to go down to Narbonne again for the grape harvest and this time was able to follow the season to Pau in the Armagnac region. It was frustrating work picking green grapes from among the green leaves, particularly as my sunglasses also had a green tint. The daily ration of home-cured bacon set off a bout of gum disease that was to affect me for years to come. Much to the annoyance of the farmer, I left before the job finished and made my way to Corsica to be in time for the Clementine season.
I hiked all around the island asking for jobs and was surprised to be stopped and questioned by the Police as many as three times in a single day. One of them explained that they thought I was a foreign legion deserter, but eventually I was offered a job at a new vineyard in the south. I was to join a group of Berber contract labourers from Morocco for the final weeks of the grape picking. There were about 50 of us in total, living in bunk rooms in two large sheds that were shared by the tractors, trailers and a tribe of wild cats. However, after three weeks the majority returned home to Melilla and just Mohammed 'Kinko' Bonjou, Khalisse, Ahmed, and Mohammed remained. Fortunately I was kept on, and we spent the weeks clearing ditches and repairing the wire frames that the grapes hung from. In the evenings I would talk with the others, or try playing the Spanish guitar that Brigitte had left with me. Sometimes they needed me to write out the addresses on their letters home.
My French had improved, but it was only with Kinko I could have any extended conversations. An educated and well-informed man, he could explain the politics of Palestine and the Spanish Sahara, and was a committed socialist. A few of them were mildly religious but their prior concern was very straightforward – to live simply and economically in Corsica so that they could take their earnings back with them to Morocco. They were surprised that I wasn't also sending money back home.
The youngest of them, Mohammed, would sometimes talk about Islam and the way of life in Morocco, describing his marriage and the roles of men and women. I wasn't very impressed with the idea of keeping 'the women' at home the whole time so he would talk about the fires and punishments of Hell, asking me from time to time, "Do you believe now?" On the other hand, he was very good at sewing and taught me a few tricks for repairing my clothes.
We were quite fortunate in our living quarters as the huge steel-framed garage had been partitioned inside and was relatively comfortable. On another farm, Khalisse's brother and two of his friends died one night when their heating stove failed. They were asphyxiated by a blocked chimney.
I caught trench foot from wearing tennis shoes while working in the ditches but that was resolved by buying rubber boots. On a trip to Porto Vecchio to get them I also visited a dentist. An infected molar had to come out. It was a tough job for him, almost literally a case of one knee on my chest while he pulled it out. I think he was quite pleased that he got it out cleanly, as afterwards in his office he pulled out a packet of Gauloises and gave me one.
We ate the same food every day and thus my addiction to eggs fried in olive oil was confirmed. It was generally Ahmed who made the green split pea soup that would serve for one dinner and the next lunch. And then one of the others would make a pasta stew for the following night and the day after. At weekends there would be a chicken, but when the festival of Eid al-Adha came in early December we had couscous with all the trimmings.
There was a joke going around that had them all in stitches any time one of them repeated it. At first no one wanted to explain it to me but I persuaded Kinko to let me in on it. It was a short poem in Berber dialect that I transcribed as follows:
Lukan sidi lukan
Waye sidi waye
Wumna sidi wumna
Lawa sidi lawa

Each line was accompanied by hand gestures with the man describing his wife's size. The second verse was the wife's own word about her husband's 'inadequacy'.
Lukan alla lukan
Waye alla waye
Wumna alla wumna
Lawa alla lawa

This was apparently how a couple described their marital problems to a divorce lawyer as they were too embarrassed to be more graphic.
At the end of December, the four of us who remained were transferred to another farm on the east coast for the Clementine picking. It should have been at least a month's work but Ahmed and myself were fired after three days, apparently because he was too old and slow and because I was a white person. The Berbers had called me Camarade as if I could have no other name and I was sorry to leave them.
I had been able to put some money aside. When I got back to Nice at the beginning of January one of the first things I bought was a Kodak Instamatic and some rolls of colour negative film. Then, on a mad whim, I took the ferry to Tunis for a week, thinking I might be able to live cheaply through the winter. The burnous had all but disappeared from the city in the intervening years. Perhaps I could have stayed longer had I gone into the countryside as my Parisian friend Claude had done seven years earlier, but it didn't work out and I returned to the Ardèche and spent the next few months helping out on another farm. No pay, just board and lodging for each day's work, but I was able to buy a car which made life easier for all of us.
A few shots survive from that little camera: a panorama showing the barn where I lived with Marie and our little band of gypsies the year before, and a portrait shot that my friend Annie took of me in the mountains of the Ardèche on one of our many days out at the beginning of 1976. It was Annie who taught me that salami and blueberry jam made for a good sandwich.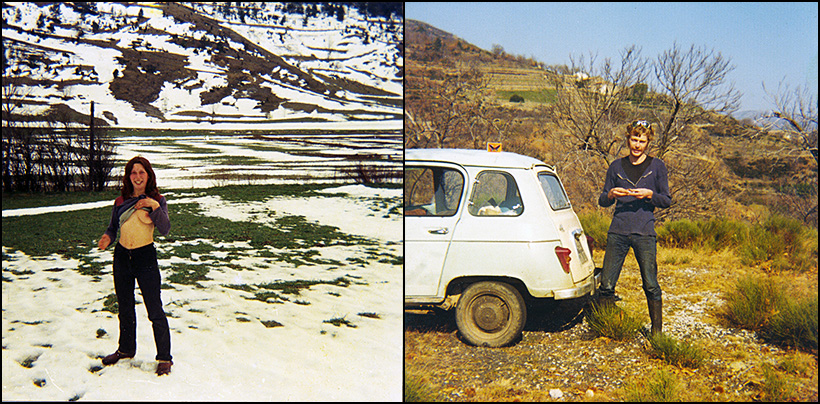 Annie, Self
In this two year period it was rare that I spoke any English with anyone. I read French comic books, and the short stories of Albertine Sarrazin. I even read half of Lord of the Rings in French. But my fluency in English was shrinking.
It was a long summer of scams and of travelling north and south. Some friends had found a good source of amphetamine sulphate and I had other contacts who had come over to Amsterdam with hashish from Pakistan. A young lad I met there told me how successful he had been doing courier work, largely because he wore leg irons and used crutches. Polio in childhood had left him severely disabled but he was cheerfully trying to make the most of it. He was above suspicion.
Other characters were less engaging. In the sleeve notes of Vulcan, a posthumously issued solo album by the Traffic saxophonist and flute player Chris Wood, the writer notes the "deadbeats and druggies" who hung around Wood's house in south London throughout 1976. I wasn't a part of the London scene, but that was very much the case the one night I stayed there. The old music I loved was gradually dying from an overdose.
There was new music of course, and apart from spending hours listening to Grateful Dead albums and the Doors, I got to see both Ian Dury and Thin Lizzy.
At the end of the year I made my way up to Denmark, thinking I might find work, or at least shelter. Living on a smallholding added to my skills and my understanding and I gradually lost interest in using any kind of recreational drugs, turning instead towards the elderberry wine. Thanks to my hosts I also got to see Chuck Berry playing in Aarhus. While he did have a backing band, it was really one of the finest solo performances I had ever seen.
The winter was long, the spring momentary, and the summer blindingly hot. I was appointed cow keeper and developed a close relationship with the house cow. I'd looked after goats before, but John Henry (as she was called) took to me. Morning and evening I'd be there to milk and feed her and clean out the stall. It was a companionship, I guess we adopted each other. I started reading again to fill the hours between and came across a book called Self-Sufficiency by John Seymour, reading it so deeply that for years afterwards I could remember entire tracts of the text. I learned that if you're going to live in the country you really need to have an export, some skill you could sell to the rest of the world.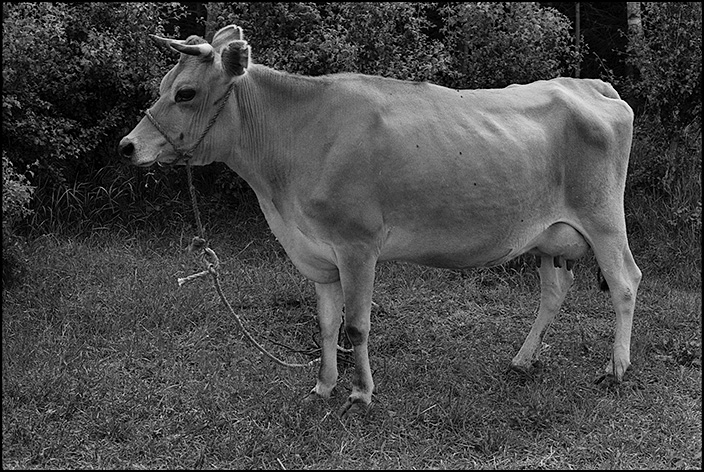 John Henry
If it sounds as though I was finding it difficult to secure myself in any stable situation while living on the road, it was true, but I was far from alone. During the mid seventies I ran into many disparate characters who were out of place. In France I'd met all manner of nationalities, people who were wandering, either from a sense of adventure or to avoid arrest in their home country. If they found themselves in the countryside the majority took on seasonal work picking fruit. In July 1977, a young woman from Amsterdam came by the farm – she too was looking to change her lifestyle by travelling through another country.
The first time she saw me I was wearing a pair of Wellington boots and weeding a potato field. That wouldn't need any explanation, except that the boots were the only thing I was wearing. It was a hot day. After a few nights we got together and stayed together for five years. We left Denmark, travelled up through Norway, went to Amsterdam, left there for Greece, and gradually made our way back to the UK via Llörach and Paris in the vague hope of settling down somewhere. I still had to hustle on the streets from time to time, though it was mainly for petrol money rather than food, but I resolved from that point forward that I would leave the supermarkets alone.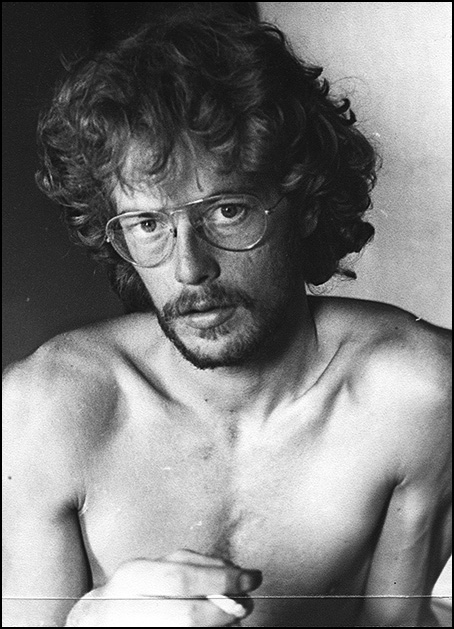 Self
I didn't marry my first wife because of her Pentax Spotmatic, but it was a point of interest that she had one and had studied photography briefly in Amsterdam. She introduced me to the values of black and white photography, especially in photojournalism, and helped bag a brief stint in a darkroom where I was able to print some negatives from our Norwegian trip. But we were soon to be living without electricity again and when we eventually found a place to live in a town, photography remained too expensive to even think about.
We had other expenses to consider. She had never wanted children. I suspect that, like me, childhood experiences had left her feeling that she could not responsibly put another person through that. When she got pregnant it didn't take much discussion for each of us to reassure the other that a termination would be the most appropriate course of action. We took out a loan to pay for the procedure and went to a privately run clinic. It was a relief that we could.
In the meantime I practised with some small sculpture. Although I had melted down some tin soldiers and poured them into moulds when I was about twelve years old and worked a little in clay and plaster when I was fifteen, most of any creative work had been related to building construction. Now I was able to cast scraps of lead and tin, the traditional ingredients of pewter, and experiment with the lost wax technique in making jewellery and small relief sculptures.
I tried to get onto one or two training courses, but in the end became a 'semi-skilled automotive mechanic' through a gearbox repair company where I found work. While I was there I made the wax carving tools that I still use today for medallic sculpture, cut from steel gearbox keys.
Some people refer to the late seventies as a mad punk period. We got married in a registry office with two witnesses, workplace friends Martin and Mo, who brought along a bottle of red wine and a pineapple. Our wedding reception, or rather where we ate afterwards, was just the two of us in the M5 motorway service station at Easton-in-Gordano.
This was also the first opportunity for me to try to get treatment for the headaches I was having from time to time. They had started while I was working in Corsica, always in the evening and I'd be laid out for up to two hours every day. It seemed as though there was some kind of cycle going on, as I'd have months without any attacks and then a cluster of them over a short period. The pain was intense and dehumanising and I was completely incapacitated, but then it would disappear almost as suddenly as it had appeared.
I had my eyes, ears, sinuses checked, my teeth and my fillings, but nobody seemed to recognise the symptoms. I saw a Naturopath, a Herbalist, an Anthroposophic doctor, a Cranial Osteopath, even a faith healer. I learned Shiatsu massage and went to acupuncture sessions. Nothing worked, so when the headache attacks started up I'd live on paracetamol with codeine for weeks at a time.
Neither of us were happy living where we were or doing the mundane jobs that we had, and so my wife and I made further plans. The first option was to migrate to New Zealand where she had distant relations and where I managed to score a job offer from a sympathetic engineering company. However, we were not able to get a visa that would allow us to travel on one-way tickets so instead we thought about taking a trip to India as much for the fun of it as anything else.
Spending three months in Pune and Goa was demanding but insightful, and it was at this point that I took on a new first name. It took some getting used to but it was a relief to have a name from a foreign language, something wholly unrelated to the inconsistent and fraudulent Christian history I had grown up with. It was from Sanskrit and could be translated as "Questioning".
There was no escaping the past though, and in one bar off Calangute beach I ran into Ita Tervaniemi, a Swedish friend I'd known on Meloneras in the Canary Islands six years earlier.
My wife hadn't known it at the time and I had no knowledge of the symptoms but it turned out later that she was bipolar. This explained some of her behaviour when there were conflicts, but whether this was inherent or triggered by the abuse she had suffered from her father when she was a child was never clear. She was estranged from her family and did not feel settled anywhere and once we returned to the UK she insisted on leaving for Denmark immediately.
From the ferry port at Esbjerg we hitchhiked to Skanderborg in freezing weather. We weren't entirely welcome at the farm but we promised to behave ourselves and set about finding work. I was able to get a job at a plant nursery, said to be the only company in the area who would employ foreigners. I was lucky, but living in an abandoned camping van in a forest clearing was far from comfortable. We lasted through the summer and then figured it out that she should go to Copenhagen and join friends there while I would return to the UK in the hope of finding some sort of education or training.
I didn't go straight there on account of a local girl I'd met. Durga had a room in Aarhus and wanted help in moving to Copenhagen. Once again the past popped up as Hungarian Mike, a guy I'd picked up hitch-hiking in France four years earlier in 1976, turned up at a concert in Aarhus.